TerraBot Glossy BLACK BL21A-GB [1500 sqft]
15W - 31W
100-240VAC

60 - 120 minutes operating time
Auto charging
Non touch obstacle detection
Microfiber mop pad for floor polishing
Navigation - real-time floor area sensing
Wireless radio remote controller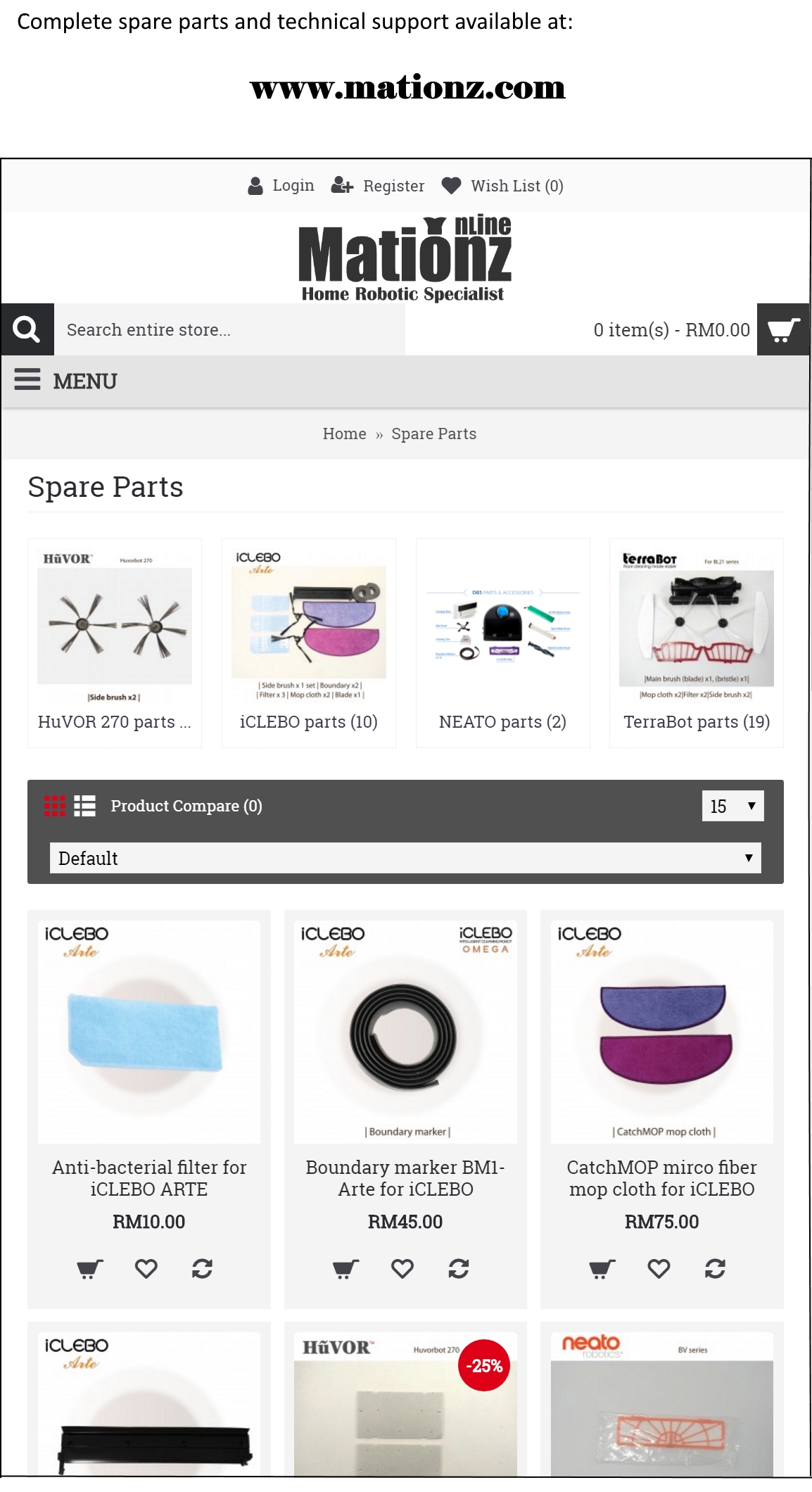 The terraBot BL21A series are the flagship of terraBot top of the line BL series powered by ARM Cortex-M3 processor made by ST-Ericsson. Its intelligent navigation system capable of capturing real time data and calculate most relevant cleaning motion to each space. TerraBot is fitted with sensors that detect obstacles from a distance thus reduce the likelihood of the robot bumping into your favorable furniture and a detachable micro-fiber mopping pad on the bottom to wipe off stick dirt. TerraBot's effective cleaning mechanism (sweeping, vacuuming, sterilizing and mopping floor concurrently) will leave floor with a sterilized and freshly mopped feeling


Designed for modern urban house
TerraBot BL21A series, is specially designed and built with modern urban houses in mind. This model can covered house with built up area of 1500 sqft with a single charge and do it all, sweeping, vacuuming, disinfect and mopping floor concurrently.



Obstacle Avoidance Sensing
TerraBot is specially fitted with light and touch sensors to let it move around and away from obstacles, most of the time without even touching them. This would effectively protect your valuable fixtures and furniture against scratches or damages.
Less maintenance
Maintaining terraBot is a breeze, just empty its dustbin and clean filter, terraBot can work for months without need to doing anything else.



Coverage Area
Capacity (Area cleaned per 1 charge)
up to 1500 sqft
Ability to resume cleaning (without repeating area cleaned)
No
Battery & Power
Adapter Voltage
100-240VAC 50/60Hz
Product voltage
24VDC
Type of Battery
NI-MH
Battery capacity
2200 mAH 14.4V
Charging time
4 - 5 hours
Working time
60 - 120 minutes